Newsletter
PE Ratio Reality Check, Down 80% Club, Gen Z's Fave Brands, Tesla Humanoid Hello, China Headaches, NFT Volume Collapse
INVESTING
How much worse can it get?
QTR provides us a wonderfully blunt, and useful, exposition of how the situation in the markets could easily become darker. The following is probably not what most of us want to see, but it is the current reality nonetheless...
As The Leuthold Group pointed out on Twitter Friday afternoon, the S&P's current PE ratio is still almost double what it has been on a median basis of all bear markets dating back nearly 70 years.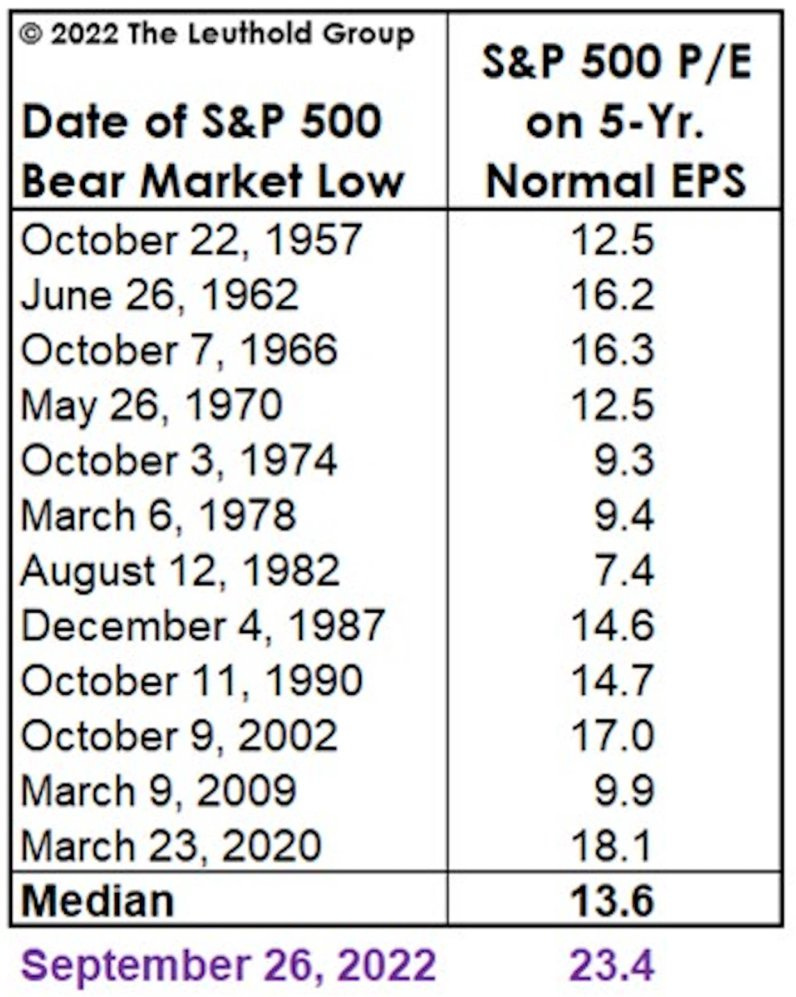 A 30% drawdown from pre-Covid highs would mean the market still has close to 40-45% downside from here. A return to the median PE of 13.6x shown in the chart above would result in the same. We haven't seen the pain of recessions past at all. Market veteran Jim Chanos made that clear today:
More details @ QTR's Fringe Finance.
The Down 80 Percent Club
A selection of stocks that are down 80% from their highs.
Details @ The Irrelevant Investor
More:
ECONOMICS
Economic growth was -0.6% in the 2nd quarter of 2022
Yesterday, the Bureau of Economic Analysis confirmed that economic growth was -.6% in the second quarter of 2022. That makes two consecutive quarters of declining real GDP, the technical definition of a recession. Here are a few details Consumers' Research pulled together from that report.
"Here are the report's low-lights for consumers:
Consumer spending increased by .2 percent more than the BEA estimated initially, thanks to inflation. If you exclude food and energy, that increase was .3% higher than the last estimate.
Personal income was down by $47.4 billion.
Personal savings were down by $78 billion. Consumers are earning less and saving less than the government initially thought.
Personal income grew $47.4 billion less than the previous estimate, while disposable personal income was revised down by .8 percent.
And possibly the worst part, according to the Federal Reserve, credit card usage is spiking at rates not seen in almost 20 years."
Details @ Bureau of Economic Anlaysis and Consumer's Research
More:
U.S. Wage Growth Fails To Keep Up With Rising Prices For 17 Consecutive Months (Forbes)
U.S. Pension Funds Could Be About To Implode (QTR)
Used cars have become unaffordable (CNN)
'Just Kidding': Biden Yanks Student Loan Forgiveness From 770,000 Borrowers (ZeroHedge)
19 Nations Have Negative 10yr-2yr Yield Curves (Confounded Interest)
BUSINESS
Elon Musk shows off Optimus humanoid robot prototype at Tesla AI Day

Musk and Tesla employees who joined him on stage showed off a bipedal humanoid robot, which they said was only a "rough development robot," walking and waving its hands in the air. (CNBC)
According to Musk, this prototype can do more than than what was shown live, but "the first time it walked without a tether was tonight on stage." Musk predicted it could hit a price of "probably less than $20,000." He claimed that the difference between Tesla's design and other "very impressive humanoid robot demonstrations" is that Tesla's Optimus is made for mass production in the "millions" of units and to be very capable. (The Verge)
via The Hustle
U.S. Firms' Optimism on China at Record Low
Details @ Bloomberg
More:
SoftBank Vision Fund reportedly laying off 30% of its workforce (MSN)
Illumina Introduces Faster, Cheaper Model of Genome-Sequencing Machine (Motley Fool)
ENERGY
New York expedites efforts to ban the sale of new gas cars by 2035 (CNBC)
U.S. placing 500k EV charging points by 2030 on 75K miles of highway (The Guardian)
Exxon CEO Warns Biden Administration Against Limiting Fuel Exports (WSJ)
REAL ESTATE
CRYPTO
NFT Trading Volumes Collapse 97% From January Peak
NFT trading volumes slid to $466 million in September from $17 billion at the start of 2022, according to data from Dune Analytics.
Details @ Bloomberg
More:
Ethereum vs. Polygon and an 'OpenSea' of decline in NFTs trading (AMBCrypto)
US Lawmakers Introduce Bill Allowing Crypto Investments in 401(k) Retirement Plans (Bitcoin.com)
Is Bitcoin Really Decoupling From Stocks? Experts Weigh-In (Decrypt)
The feds are coming for the metaverse — from Axie Infinity to Bored Apes (CoinTelegraph)
😎
Thanks for reading. If you like this newsletter, forward it to a friend!